A Mile in my Menopause
Share your story and help to build connectedness, empathy and power through knowledge about the menopause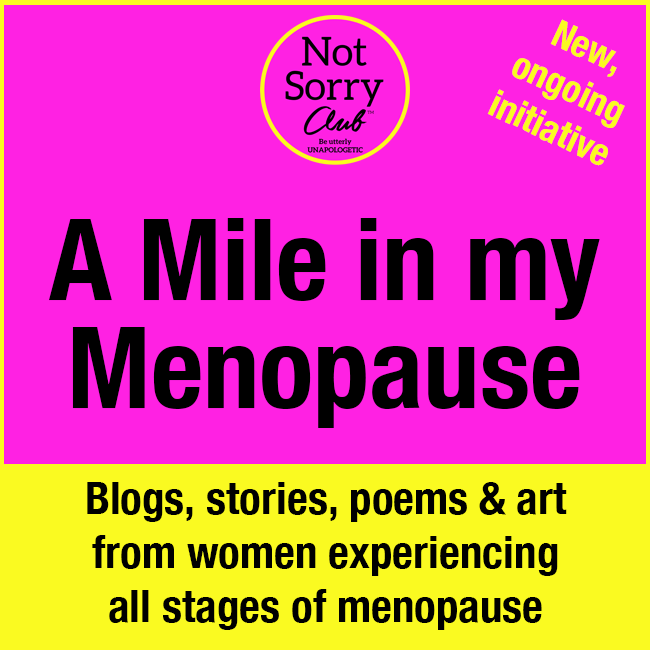 A Mile in my Menopause is our new, ongoing initiative, that kicked off on World Menopause Day (18th October) 2023.

In an article by UCL, 9 in 10 women are not educated about the menopause, and finding stories from women willing to share their experiences are few and far between, due to the taboos around menopause.

Menopause is a life-stage that half the population will go through, and so to dispel the mystery, and to support women in unapologetically understanding their bodies better, we're giving women a platform to share their menopause experiences.
The word menopause is still taboo, and at Not Sorry Club, we don't apologise. We don't shrink. We don't suffer in silence.

We want women to unapologetically share their menopause stories, through blogs, videos, even poetry and art, to help us connect on this subject and spread kindness, empathy and understanding when it comes to the menopause.

'A Mile in my Menopause' will now be an ongoing initiative for anyone to share their experience with any stage of the menopause, which we will publish through the Not Sorry Club website and socials to foster power through knowledge.
'A Mile in my Menopause' is about building connectedness, empathy, and power through education between women sharing their experiences, and for men who want to understand what their mothers, sisters, wives, colleagues may be going through.

Videos, blogs and articles should be max. 5 minutes, or max. 2000 words.

We hope to hear from you and spread education and connectedness about such an important part of our lives.
Share this with a woman who you think would be amazing in sharing their story, so we can understand a mile in her menopause.

Be part of an important collection of stories.
Email us at hello@notsorryclub.com.