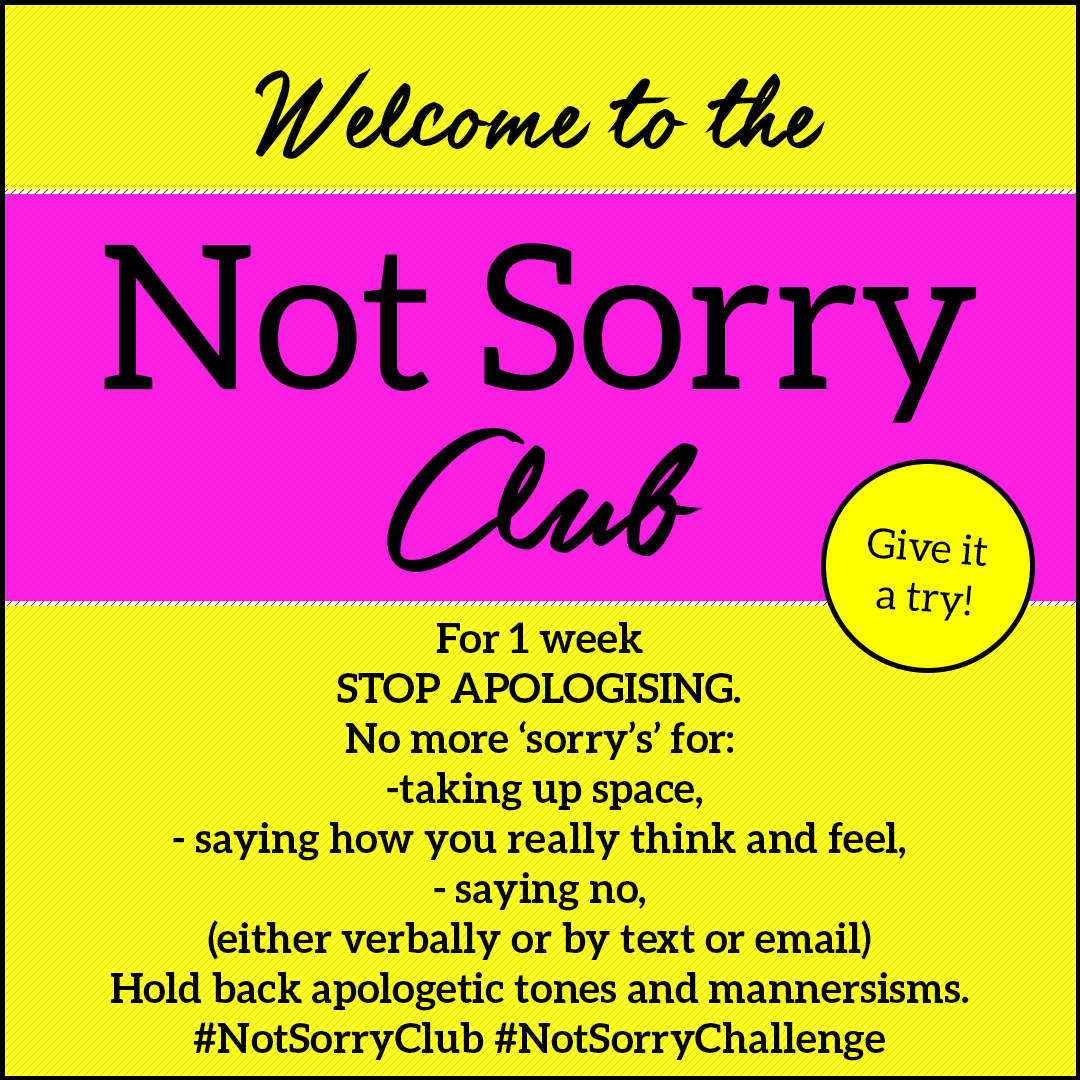 After taking the 1 week Not Sorry Challenge - make it a HABIT.
Ever feel like you say 'sorry' 100 times a day? TAKE THE CHALLENGE.
Here's your permission to STOP APOLOGISING.
The Not Sorry Club is a platform to help women in regaining their confidence by leaving their 'sorry's at the door, primarily lead through our Instagram page.
My name is Betty Adamou, I'm an entrepreneur and together with my co-founder Olivia Darling-Fernley, we're starting a movement.

THE STORY
In 2019, I was inspired by my 1 month sabbatical in Bali to start an all-female club.
I had spent 9 years running my own business, and needed a break.
But not just any break – I wanted to be with like-minded people and be inspired by their work, stories and lives. 
I found a great programme called Unsettled, and I spent 30 days with a diverse group of
18 ambitious, creative, intelligent, funny, talented women from all corners of the Earth.
In that month, we talked, laughed, and elevated one another.
By the end of our 30 days, we created a global sisterhood (and are still in touch today).
On my return back to England, I thought about how to replicate that supportive and powerful group I found in Bali.
I thought about creating a group to include women of a similar mind-set where I live,
where we could talk openly and be our true selves.
We'll talk about everything and anything – we'll elevate each other, laugh and cry, and create new friendships across the globe.
So, I texted a friend about the idea – a long text. You know, one of those that looks like a mini-essay.
Instinctively, and straight after, I texted her: "Sorry, I'm feeling very revolutionary right now".
Then I texted "NOT SORRY. That's the first thing to go actually.
No one (in the club) apologies for saying how they feel/really think."
Then I realised – OMG. It's the Not Sorry Club.
THE NOT SORRY CLUB WAS BORN!
For the next week, I kept thinking about the Not Sorry Club.
I became really conscious of how much I say 'sorry', and I realised, it was a lot.
Whether I did so because it's a British thing or a female thing, I don't know.
But very time I caught myself wanting to say sorry or even display apologetic mannerisms or the one of my voice, I cut that shit right out.
In that one week, there were dozens of occasions that I stopped myself from saying the S word; dozens more times where I was unapologetically me and music more confident – and no doubt people receiving me in a more more confident way.
 Every time I eliminated 'sorry' from an email, text or conversation, not only did I feel better,
but I felt much more like myself, and confident. It felt incredible.
I felt lighter.
It felt like a superpower.
I decided I want more women to feel this way.
How do I join the Not Sorry Club?
The moment you accept the #NotSorryChallenge,
you're in the club.
Here's how the challenge works:
FOR JUST ONE WEEK…
Stop apologising for taking up space, saying 'no', or being honest.
Stop apologising before we want to add a comment in the meeting.
Stop apologising for sticking up for ourselves. 
Hold back from apologetic mannerisms and tone of voice, both physically and in digital communications. 
Stop saying sorry, for all the little and big things we shouldn't be saying sorry for. 
Essentially, stop apologising for existing! You have a right to take up space, and say how you really think and feel. 
A caveat: This is not about being rude, and disrespectful; still say 'sorry' where a genuine sorry is needed.
If you've knocked over an old lady on the street – say sorry.
If you've not turned up for a lunch date when you said you would, say sorry. 
The Not Sorry Club is for all those who apologise profusely when no apology is needed.
That's what we're trying to eliminate. 
Start your 1 week #NotSorryChallenge today. Our goal is to have 20,000 women take on the Not Sorry Challenge throughout 2020.
We want 20,000 to stop apologising for just one week in 2020, and then make it a habit. Will you be one of the women taking the challenge?
We'd love to hear about everyone's experience with the #NotSorryChallenge. 
Was it easy? Difficult? Liberating? No difference? How did you feel?
We'd love to know.
Please feel free to put a post up on Instagram using the tags #NotSorryChallenge and #NotSorryClub.
You can also DM us on Instagram, email us, and even tell us if you'd like to do a write-up about
your experience which we'll review for publication in our blog.
Interview with co-founders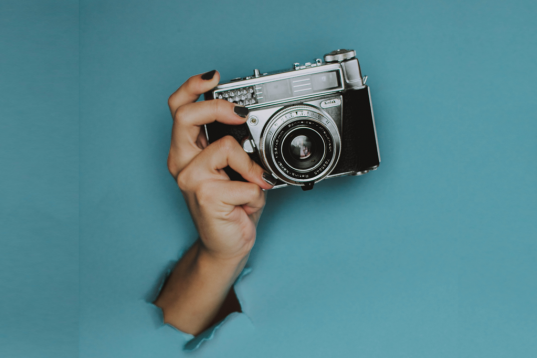 Hey there! Are you curious to find out more about the Not Sorry Club? Check out our 10-question interview below with Co-founders Olivia Darling-Fernley (ODF) and Betty Adamou (BA).    1. What is the Not Sorry Club?   ODF: It's a monthly club for women to elevate, relate and learn. Each month we discuss a […]
STOP APOLOGISING. START LIVING.
Stop being afraid to take up space
Did you take part in the #NotSorryChallenge, and want to write or share something about your experience? Get in touch.