JOIN THE CHALLENGE
The #GoPinkYourself initiative started as a 1 month challenge for April 2021, and is now ongoing.
We're challenging YOU to pledge things to be unapologetic about, and build new, valuable habits.
Here's how to #GoPinkYourself
There are loads of apps that can add a pink filter to photos,
but if you don't want to download another app,
here's how to #GoPinkYourself using just your phone and Instagram.
You will need: an unapologetic selfie.
And the THING you'll challenge yourself on.
STEP 1
Start to upload your already black-and-white photo to Instagram, how you would normally upload a photo. Click on 'EDIT'.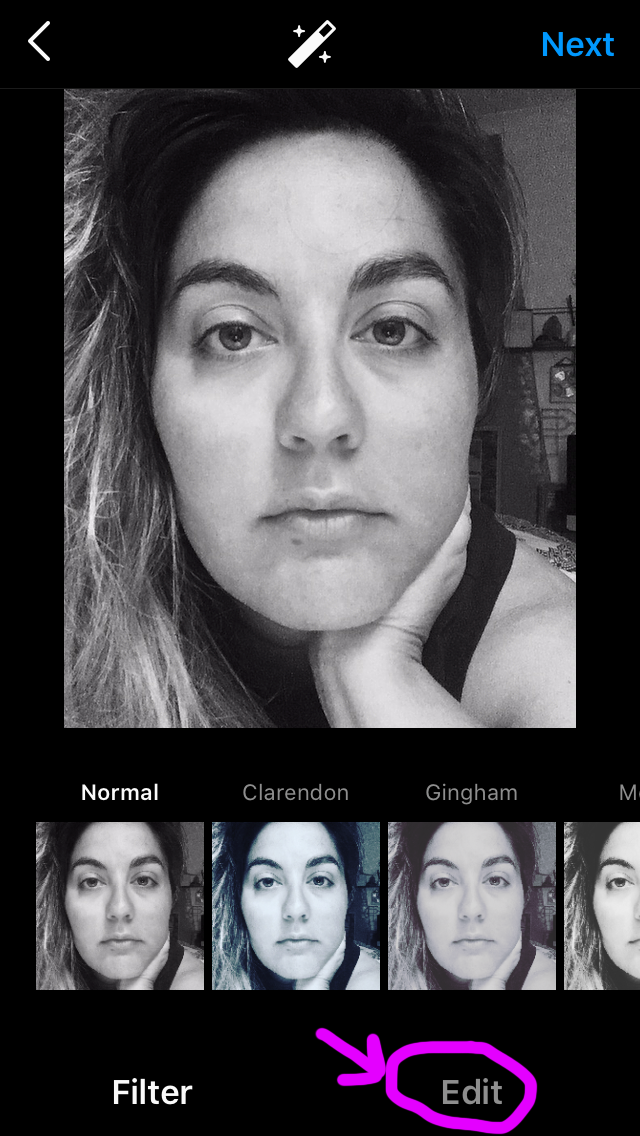 STEP 2
Start to upload your already black-and-white photo to Instagram, how you would normally upload a photo. Click on 'EDIT'.
STEP 3
Select the pink colour.
Double tap the pink colour and the Highlights and Shadows to get the scale bar.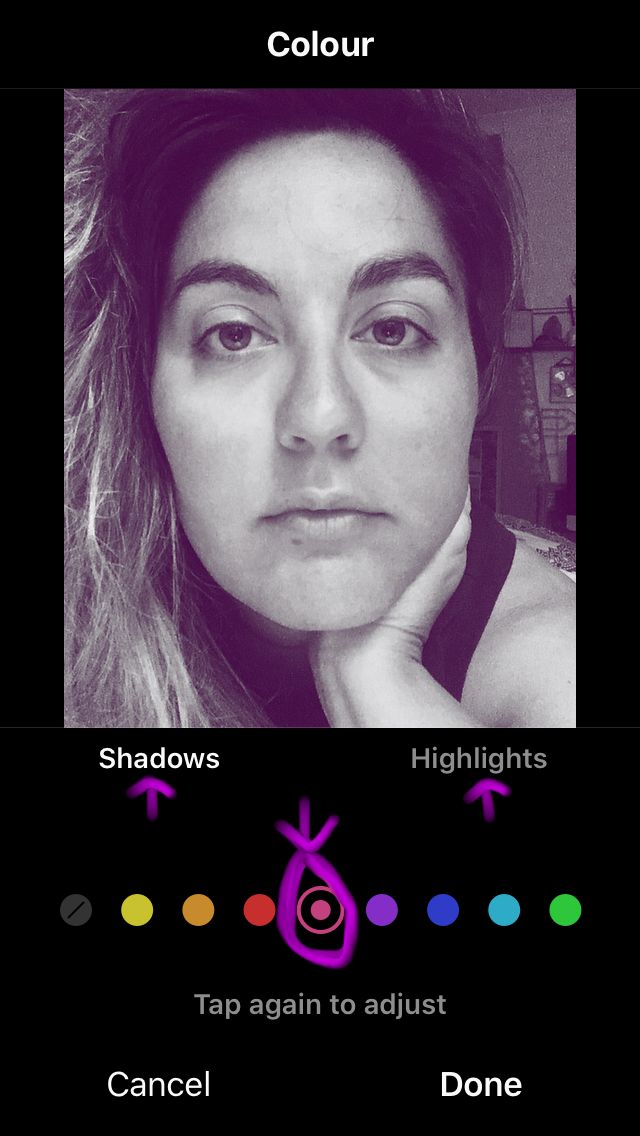 STEP 4
Use the scales to turn the pink Highlights and Shadows UP!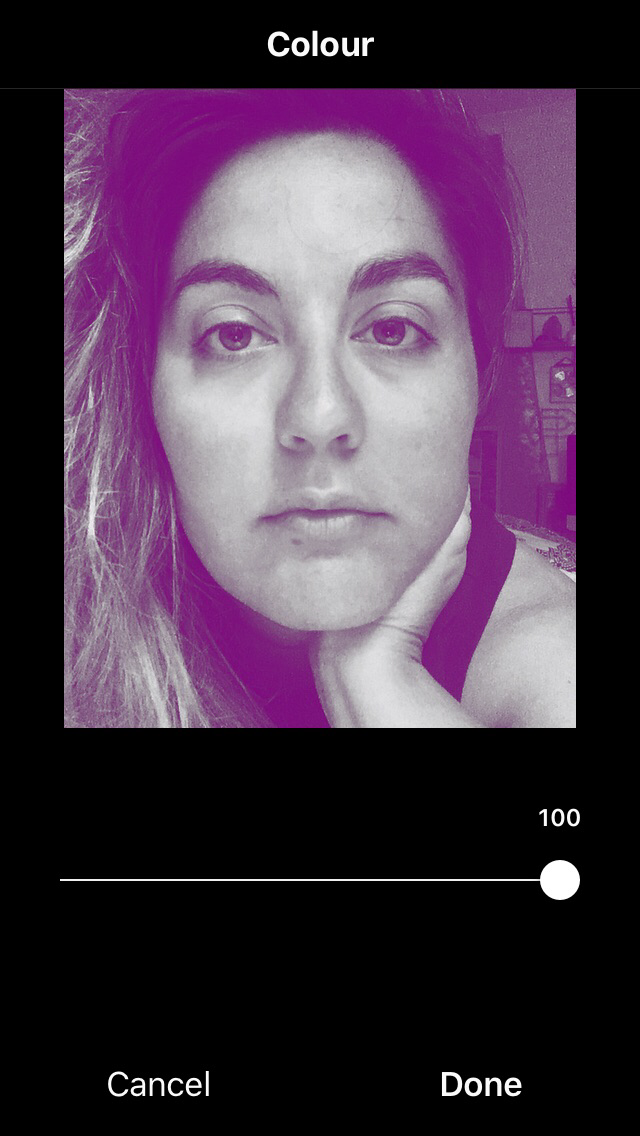 STEP 5
For extra pink haze, turn the Saturation up too.
Scale it right up for a neon look.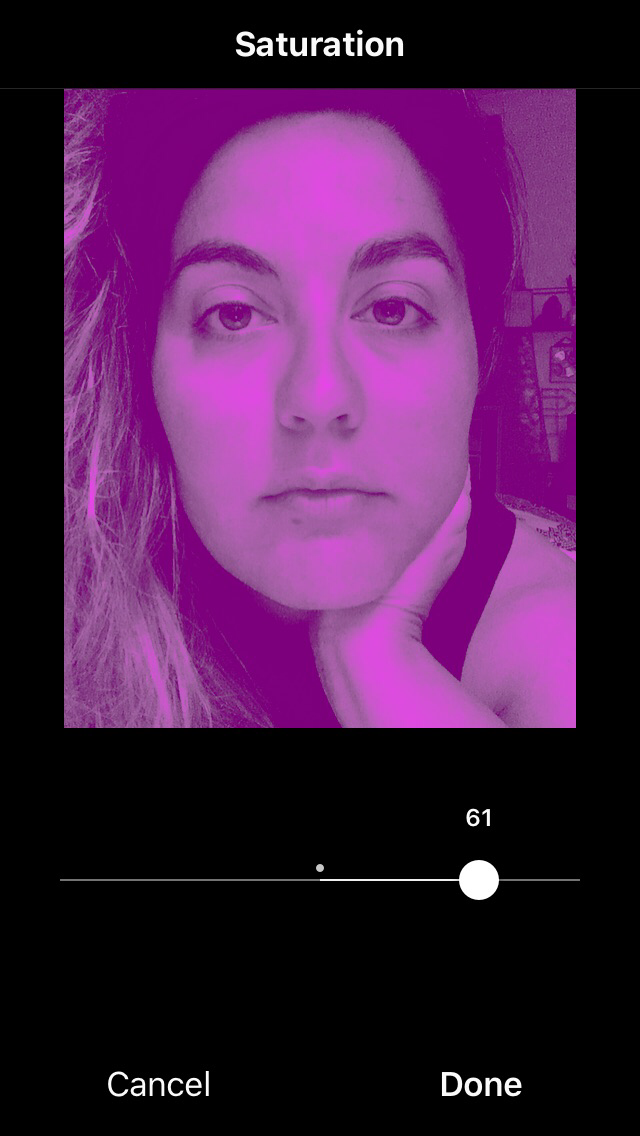 STEP 6
You're ready to post your picture with the hashtag #GoPinkYourself.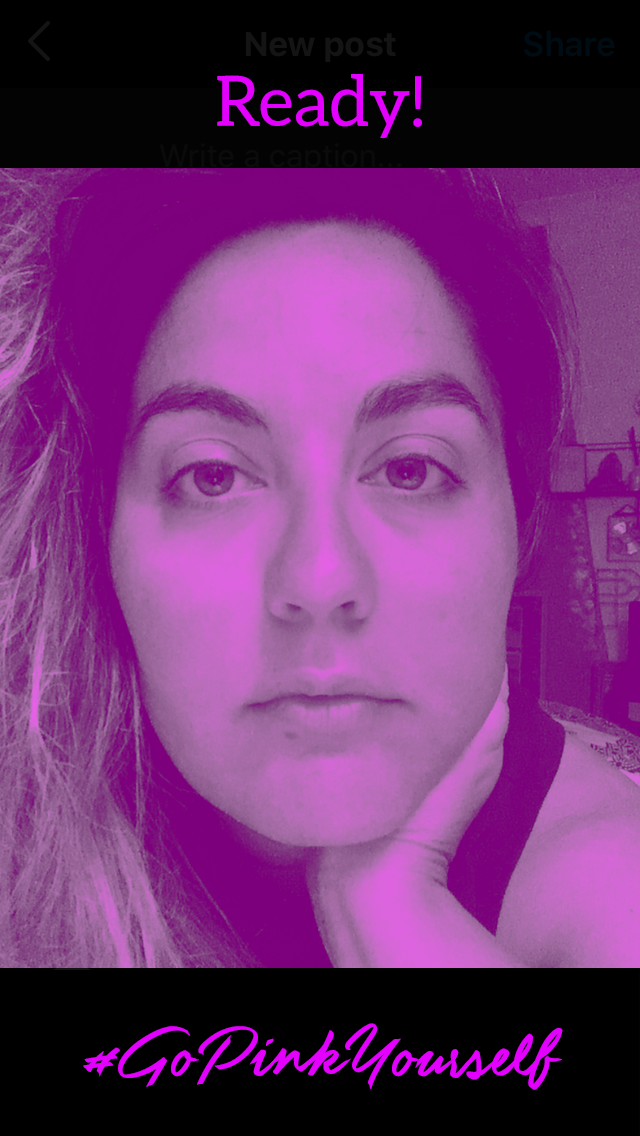 Why #GoPinkYourself?
The Not Sorry Club want more women living unapologetically.
And by the sounds of it, more women WANT to live unapologetically too.
What could your #GoPinkYourself Challenge look like?
Here's some examples…
You could Challenge yourself to…
Stand by your life choices.
Laugh without putting your hand over your mouth.
Stop saying sorry unnecessarily.
Call out disrespectful behaviour.
Create, and maintain, healthy boundaries (without feeling guilty)
Share how you really think and feel at home, and at work
Really stop and design the life you want to lead
Delegate more
Rest more
Procrastinate less
Be your authentic self
Celebrate your success
Stop feeling ashamed of how much money you earn, or wanting more of it.
Demand equality in the home
Shrug off anyone who makes comments about your body shape or size
Wear the clothes you want.
Wear your hair how you want.
Tell people how much you love them.
Stop worrying about what other people think of you.
Not wear makeup and love your bare face.
Unashamedly use your body as your canvas and wear whatever make up you want.
And so much many more ways that YOU can live unapologetically…
Share your #GoPinkYourself Challenge 
and tag us in your post using @Not.Sorry.Club and #GoPinkYourself.
The Not Sorry Club believe in living unapologetically and being your authentic self.
Our philosophy is that in striving to be and do these things, to DO NO HARM.

We believe in living unapologetically with kindness and empathy in our hearts.
We believe in being respectful and courteous to others.
We believe in being conscientious and thoughtful.


If you would like take on the #GoPinkYourself challenge,
please be aware that we do not stand by any behaviour or practices
that are not aligned with this approach.
Support the Not Sorry Club
Like what we do?
Make a small monthly donation to support the Not Sorry Club.
Donate with Patreon using the buttons below,
or check out our Patreon page here
Make a £5 one-off donation with PayPal

What kind of things need paying for?

From graphic design software to video edition programs, domain hosting fee's, as well as other licenses that keep the Not Sorry Club cogs turning, one of the biggest things your donation will go toward is our time.

We love creating your content and hope to continue for a long time.
That's why we need your support, to keep the Not Sorry Club sustainable for now and the future.

When you donate, you'll get a personal thanks from our founder, Betty Adamou,
as well as a small token of our appreciation in the post!